Biography
I am a Journeywoman. I live my life as an explorer. An adventurer. An Observer. An Artist.
There is no differentiation between how I live my life and the art that is an expression of it.
---
Fine Art Photography
"In the field of Fine Art Photography Julie stands apart form others with the way she sees the world and expresses her connection within it.

Julie Stephenson's photographs and images of Antarctica and Greenland are sublime. Her work is an expression of her deep connection; and a gift to the world."
Photography is my primary medium and the source material from which my artworks are created.
As a photographer, I hear through my eyes. I am an observer. I listen to my inner response to what I see through my lens.
When I'm using my camera – nothing else matters. I am totally immersed in seeing and feeling. I am observing my surroundings and my subject matter; and I am observing my own response to what I see. Using my camera allows me to literally focus on living in any moment.
My photographs are an expression of deep connection.
---
Exhibitions
I have exhibited extensively throughout Australia, US and Italy in both solo and group exhibitions. Click thumbnail to view selected exhibitions. My work has been selected for, and won awards both nationally and internationally.
---
 Publications
'The Shape of Cold' – 
'The Shape of Cold' is a Fine Art book of exquisite Black & White photographs of Antarctica from Julie's first journey to Antarctica in 2014.
This beautiful book is a work of art in itself.
2017 – Winner IPA International Photo Award Book Photographer of the Year
2017 – Winner IPA International Nature Book
First Place Winner of all of the book categories in the MIFA Moscow International Foto Awards 2017.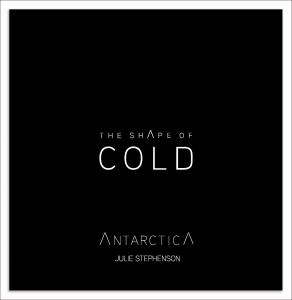 "With the Roof Off" – Our journey driving a 93 year old vintage car through India, Bhutan and Myanmar. This Collector's Edition copy can be purchased by clicking the thumbnail.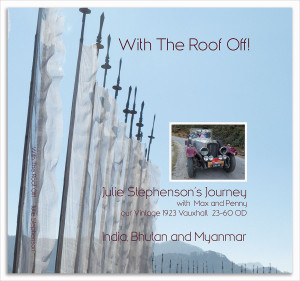 ---
What my life is about.
"Julie is a journey-woman – of the world and of consciousness. Julie is an artist. Julie is a Shaman and gifted healer. Julie is an observer, orator and creator. Julie is a guiding light."
I am an explorer of experience. I am an adventurer into the unknown. I embrace my precious life with courage, inquisitiveness, humility, reverence and love.
I explore the mystery of the Unseen and see the world through intent observation and adore using words, images and artworks as a narrative of my experience.
I have travelled the world extensively; published several books; exhibited and have my work in collections around the world and teach others how to hear through their eyes and connect more deeply.
I have a deep connection with the Natural world have been recognised by respected Shaman around the world as one of their peers. I am a gifted Healer and Seer.
It is through my experience and my developing awareness, that I learn more about myself. My aim through this connection with my-Self is to live where I am expressing myself fully in alignment with the essence of who I am; and share with others how this is possible for themselves as well. In this exploration, I am experiencing a deeper connection with the unseen.
You can read more about what my life is about by clicking here.