India and Bhutan in Penny 2015
Bhutan – Thunder Dragon Rally.
My Collectors Edition Book "With the Roof Off" is now available to purchase!
This beautiful book reveals an insight into the cultures of India, Bhutan and Myanmar; and the way Julie observed and experienced travelling through these countries with her husband in a 93 year old car – Penny.
You can purchase your Collector's Book; Individually Numbered and Signed –
…Is the perfect Christmas gift!
This book will inform, entertain and inspire you… and is also the perfect gift for the person who appreciates travel and seeing the world and different cultures!
ISBN: 978-0-9953828-0-0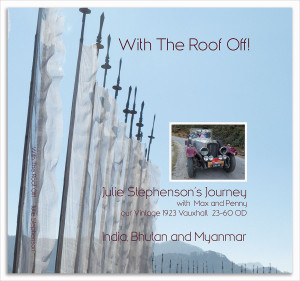 Our Journey To Bhutan... through India and on to Myanmar
I'm so not very good at keeping up to date... and this one was years ago; but

Read more

A Tibetan puzzle. A prayer flag flutters in the wind.

Which is it

Read more

Walking up the steps to the Golden rock, Max and I looked at each other and

Read more

So… the big Golden Rock in Kyaiktyo in Myanmar. We were packed

Read more

4am in the morning, even before the roosters; and my broken sleep was severed

Read more

I need to backtrack a couple of days because I am behind in my journal. Our

Read more

I do have quite a lot to catch up on over the past three days  and you can also

Read more

Throughout this journey I have been confronted by how so many other people

Read more

I saw a lot of men with 'guns' today…. And not the sort of 'guns' I would

Read more

That horrible grinding sound underneath Penny….. Well.. it was

Read more

When did an 'orange' road on our map – which led off a four-lane highway become

Read more

Our incredible journey through Bhutan was nearing it's end as we descended

Read more

Dust and rocks.... steep slopes and landslides... and I'm sure the prayer flags

Read more

Our drive to Mongar was spectacular. The landscape was varied and we woke to

Read more

We left the exquisite misty mountain views at Trongsa….and at reception our

Read more

Steep slopes… boulders… falling rocks… winding roads… dust… sheer drops….Oh my

Read more

The female river Mo Chhu; supposedly the more calm; serene; placid….before the

Read more

What a road!!!! Landslides…. Curves…. And never-ending roadworks. ..and when

Read more

Penny is once again adventuring through the mountains of Bhutan.

Read more

Clean air. Steep slopes. Incredible scenery. We are now finally

Read more

Another early morning at 4.45 for a 5.10am start to go to a reserve to see if

Read more

The small fire in our fireplace in a quaint hotel in Darjeeling went out about

Read more

I have a few days to catch up…so I apologise for a longer overview in this post

Read more

Hi [firstname,fallback=], Remember how I said that there are many things in

Read more

"Aummmmm….. Aummmmmmm….." I chanted in a Yoga class in India. It seemed a

Read more

"Ohhhhhhhhh… so you are going to Kolkata…" said the steward at Thai Airlines in

Read more

Thought I needed a change... quite liberating having nearly all my hair

Read more