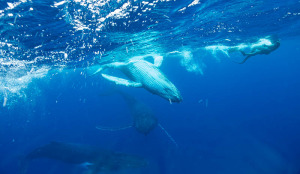 "In the water"… "Go" "Go"…. gulps of salt water… veils of bubbles enveloping my foggy mask… searching in the endless stripes of blue for a feint hint of white or black….hearing clicks and squeaks of groaning whalesong (absolutely NOTHING like on those relaxation CD's!!!)..then like stealth submarines with effortless propulsion THEY appeared!!!
I forgot I had a camera in my hand. After a quick lift-up and dunk clearing the fog from my mask…my own eye searched for theirs. This was the place where my whole Being seemed to enter.
Scratches on grey skin. Cookie cutter holes. Barnacles. Stars. Rays of light. Gurgles in my snorkel. Fins in my face.
"In the water. Go!!!!"… a wave of nausea paralysed me and pain shot up from my knee as I swirled in the swell at the back of the boat and finned in a rather flailing way toward where I anticipated the whales to be. A calf… A mum. An Escort. …another Escort! The calf was playful, yet under the watchful eye of the mum was herded away from us 'two finners'….and one of my fins wasn't working that well.
I couldn't see any streams of red flowing out from under my flowery pants which I wore under my wetsuit for sun protection – so I knew I was fine…but I realised that soon after I heard the "In the water" command, my fin became caught on the side of the little funnel where us humans plopped out of the boat from…and my fin stayed there and my knee kept going forward and smashed into the back vertical edge of the human chute. All good. Serious injury avoided and swelling averted by Villi's conscientious and careful application of a frozen water bottle. So, for me it was a gentle plop over the side from then on!…and a swim around the motors through the curtain bubbles to have a world of whales revealed …or sometimes NOT!… as is the case when we are in THEIR world… and where the whales dictate the terms of engagement.
So how did I end up in the ocean…with a huge swell and choppy seas, timing climbing up the flopping ladder in accordance with the surging water and height of the rising and sinking stern? How did I end up snorkelling in crystal, teal sea; and sandy beaches with coconuts and nesting seabirds; and kayaking and joyfully swinging on a pendulous long rope from half way up a coconut tree and plopping unceremoniously fully clothed into the clear water?
Firstly it can be a little challenging getting there as Vava'u is a light plane flight from the main airport of Tonga in Tongatapu…and it seems to take ages (days – well only a day but seemed longer :-)) in connecting flights. Scheduling connecting flights can be a little tricky..and is a compromise between sleep, cost and stop-over nights…but soooo worth it!
This year I went with Scott Portelli . Previous years I have had a fabulous time with Darren Jew and Whaleswim; using Dolphin Pacific with Al and Ali as our guide. This year Whales in the Wild, skippered by Pilla with our guide Villi; were wonderful as well. Having a small group of four was fabulous, which meant we could be in the water for every swim; rather than being on the boat wishing that I was in the water. Regulations permit only four swimmers and a guide swimming at any one time.
Staying on Mandala Island Resort was magical. Ben & Lisa have shown how their trust, courage and listening to the land can create a truly special place which is good for one's Soul. It was so good for mine. Mandala now has beautiful accommodation which can cater for groups which makes it an ideal base for swimming with the whales and all sorts of workshops even; and exploring this exquisite part of paradise.
So.. alarm in the morning… short 10-15 min boat ride just after sunrise… 15 min stroll to the pier from the Old Harbour wearing wetsuit and carrying fins and sunscreen on lips; with the little pigs scurrying; roosters crowing, dogs barking; church bells clanging; children laughing. I love Tonga. I feel comfortable. There is just something about being in Tonga which I can't quite put my finger on….but I love my visits there.
Watching for little grey puffs of what looks like smoke on the horizon often signals a change in our direction. I loved sitting on the roof of our little boat where it was warm and I could see from an elevated vantage point. "3 o'clock, 500mts" …. and off we veered. Villi our guide giving us the instruction to "Get ready guys"….
So…if anyone is interested in coming on a trip to Tonga…or you think you may have friends or rellies who would like to join a group utilising my experience and expertise, please pop me an email or pop your email address on the list on the left margin to register your interest .