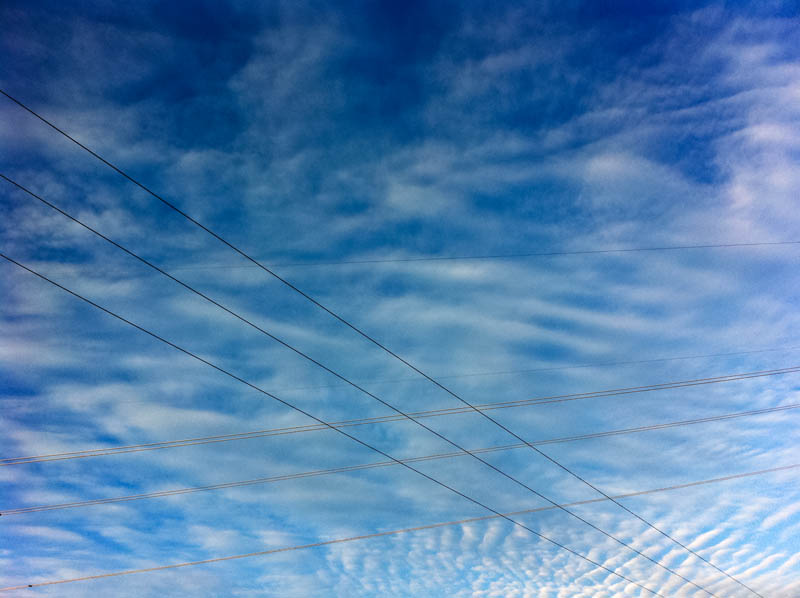 "NOTHING CAN RESTRAIN ME"
…is the title of this iPhone pic I took the other day, and I think is a wonderful example and indication for me of how my image reflected what I felt when I was taking it.
It's not necessary to go into the whole story of one of the things in my life at the moment – but I am facing lines of constraint. Lines of unwavering regulations and rules. Lines which confine. Lines which try to restrict and contain.
…but I have realised that nothing can restrain me. No lines of regulations can prevent my passion from flowing from within me. No lines of confinement can prevent me from expanding. No lines of barriers can stop me from feeling beautiful and playful. No lines of containment can hold me from flourishing and feeling a deep sense of freedom just like the clouds blowing in the wind.
When I saw this sky… I was feeling a sense of defiance and determination to not feel constrained. I was drawn to photograph it. I was mesmerised by the beauty of the clouds dancing in the sky; whilst being juxtaposed with the straight lines across the sky…. like wired barriers trying to hold back the clouds.
I realised deeply whilst looking at the sky that ultimately 'nothing can affect me'…. nothing can affect my Soul. The light from within will ALWAYS be… regardless of my circumstances… and even in fact my choices.
Now when I see this image, I remember what I felt… not that I saw power-lines and clouds. I remember feeling the sense of freedom in knowing that NOTHING can affect my Soul; not my circumstances nor my choices…. so that when things get tough and I see barriers, rules, regulations, things which try to constrain me – I remember that NOTHING can contain me, just as the lines cannot stop or contain the clouds from flowing in the sky… and with this knowing I now can forge ahead without so much fear and uncertainty.
This is an example of not only how I photograph what I feel, rather than what I see….. but how photography for me teaches me about myself.
It is important however that when objectively looking at an image to determine its qualities…. I must remove myself from the feeling I had when I took this image, and the connection with myself it provided; because that will cloud (hahaha no pun intended :-)) actually looking at the dots on the paper or pixels on the screen.
I can do that… although with a lot of room for development…:-) , because I Practice. But for me at the moment, this image is a reminder of not only to photograph what I feel rather than what I see… but also a reminder of what I connected with personally whilst experiencing taking the photograph.