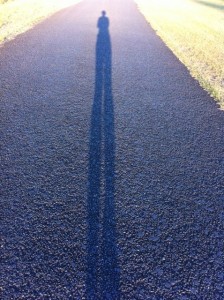 Well…. this is exactly how I have felt at times over the past few weeks. STRETCHED!!!
On my run a couple of days ago I saw my shadow…. and I realised that this was exactly how I had been feeling. .. a wonderful stretched feeling… but stretched none the less!
I have recommenced my own massage and bodywork practice and since returning from Tonga I have hit the ground running.
Taking  breather now sitting in my beautiful new room, I can reflect on how much I have actually achieved and how I have come to be in such a priveliged position to be supporting others through the gift of my healing through massage and bodywork.
I've developed a logo…flyers…business cards… developed my own website…. set up and worked from one room which didn't work out….. and moved this week to an amazing new room where I have painted the walls and created the most beautful space to nurture and support others.
It has been an amazing journey and although at times exhausting…. I know has all been absolutely SO worth it, when I walk my clients to the door after their appointment and see and feel how much my bodywork has touched their lives.