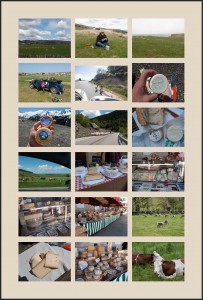 It all began on a single day's pilgramage in search of some Wensleydale in the Yorkshire Dales in England about a month ago now…. and it has become a daily event which is akin to a treasure hunt… finding local cheeses to savour and comment on as we sit on makeshift seats (our luggage bag) or the ground having lunch and dinner each day. "one can never have enough cheeses in one's little esky; can one?  "Heheheheee
After our unsuccessful day searching for Wensleydale, we did manage to find some in the northern part of England.. And we were not disappointed. I'm not usually a fan of the blue cheese variety.. But because of Wallace and Gromit fame – I wanted to try some Wensleydale from the place where it was made. It was very yummy.
So our search for cheese began. As we drove throughout the north of Scotland on a rather bitterly cold day in the vintage car.. we stopped at a little shop looking for some warm coffee and a hot chocolate. In the small glass fronted fridge were little white round discs of cheese. I asked the lady if it was local and she said in her very broad Scottish accent which sounded like an entirely different language than English – that it was made at a small farm within 100 mts. My next question was "Is it pasteurised?" My dear friend Sandra who is my confidante and advisor on all things travel ( amongst other things) would have been proud that I asked this question – to ensure my continued well being without any tummy problems. .. And YES it was pasteurised…. So off we went with a small parcel wrapped in white waxed paper, and treated like a small treasure… and popped it into our little soft blue cooler bag to enjoy later by the northern coastline of Scotland.
By this stage our -well mainly MY; hunt and passion for cheese had well and truly become entrenched. There wasn't much hunting though on the rally because our days were full …but as soon as we left Madrid at the completion of the rally ..the search continued.
"Tienes algún queso de cabra por favour?" I attempted to say as fluently as I could as we travelled through the Sierra de Gredos mountains in Spain toward Portugal.  We slowly crept through the narrow streets of the 15th century villages my eye scanned for little shops with glass fronts with any hint of food inside. I became quite adept at sniffing them out whilst we were driving toward our first night where we stayed at Gredos in a tiny but welcoming guest house. As we looked toward the snow capped mountains -after rudimentary Spanish from my iPhone app, we once again enjoyed local cheeses.
We were invited to stay with a friend in Portugal who was a very gracious host and gave us local information about where to purchase the best cheeses (amongst other advice about where to visit in Portugal – but I will save that for another post). He also took us to the best authentic restaurants in his hometown of Avora – which is steeped in history … with the buildings dating back two millennia, with buildings from both the Roman and Medieval times entrenched in stone across the landscape and form the foundation of the town today..( Stay tuned for a post on more of Portugal soon). We had local cheese dishes where the cheese was melted and mixed with locally grown oregano..and Prosciutto which was made by the restaurateur and had taken 2 years to cure hanging in his cold room.It was like nothing I had ever tasted before..and amazingly beautiful.. But I digress.. Back to glorious cheese!
"Você tem alguma queijo de cabra por favour?" I once again stammered in cheese shops in Portugal. Regardless of my rudimentary grasp of Portuguese, I still managed to leave the shops with small waxed parper parcels, filled with glorious cheese.
We left Portugal and traversed through Spain, and every morning we would look intently for a little local shop which would have either fresh crusty bread and of course cheese. We continued our daily tradition as we traversed the slopes of the Pyrenees in France… stopping abruptly when I said.. "Fromagerie!!".
We have samples all types of cheeses…of which for me there were two criteria… firstly that they must have been produced locally, and they had to be made from pasteurised milk (just in case). I have to say that only once were my conditions not met.. And that we yesterday when we were high in the French Alps, and after being delirious from playing in the snow we passed a small fromagerie  and I said "Avez-vous un fromage de chèvre s'il vous plaît"… To which I was pointed toward some soft white cheese which looked divine. As we were sitting on the ground eating our dinner made with goodies from our cooler I was enjoying the delicate soft and salty flavours of this beautiful goat cheese and my friend Sandra's voice echoed in my head. I had forgotten to ask whether it was pasteurised. Sorry Sandra… WOOOPS!. No tummy troubles last night – but note to self.
We have had cheeses ranging from blue and soft and creamy; to hard and oily with a rich taste; to quite waxy and plain; to gooey and creamy on the inside with a deliciously firm skin; to crumbly and salty; to goaty and rubbery… and so many others I just can't recall… but all were just beautiful. .. Well.. Nearly all. We bought one goat cheese and when we opened the little cooler bag it just smelled revolting. I unwrapped it to let it air… and I just couldn't bring myself to eat it. I think it actually was bad, because it nearly made us both gag when we smelled it… so it was the only one destined for the bin.
I have learned so much about cheeses…how they are made… and even learned that that disgusting looking mould on the outside of some cheeses can actually be eaten!! Rather than being carefully pared away. I have also learned how to take the 'lid off' a really gooey soft cheese and eat out of the middle and pop the lid back on for the next day. Our cheeses didn't last more than a couple of days though because we just bought small portions.
As I have been travelling looking out into the landscape I have observed cows, sheep and goats…and know that the milk from these animals goes into the beautiful cheese and produce made lovingly for us to all enjoy. What I have also observed is the care, passion, pride and love cheese makers and shop owners who sell the cheese- have for their products. The respect given to cheese is quite remarkable.. And as I carry the cheese from those small delicatessions or fromageries.. I too carry that respect in my hands and give thanks for such simple pleasures which have become part of our day's journey.