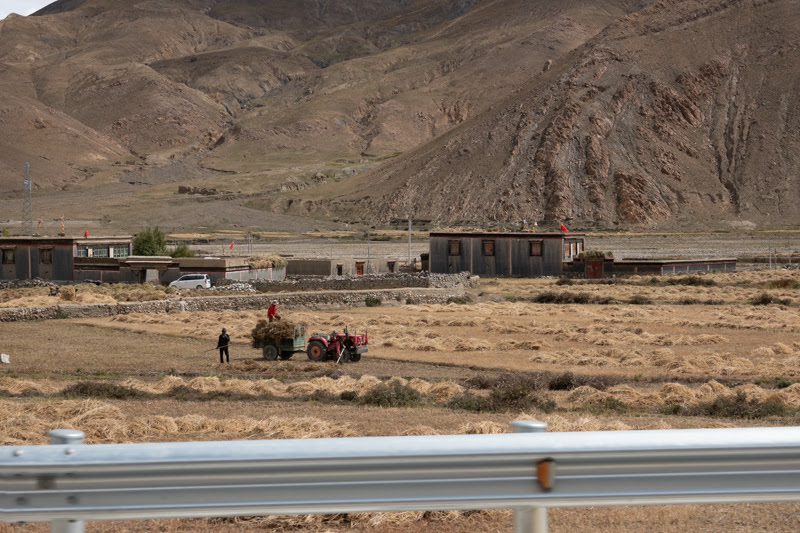 Tibet is so rich. The culture, landscape, and the Tibetans are so friendly. I love waving to people as we drive by; and nearly always I'm met with such vigorous waving in return. I have to admit that at times I'm brought to a little wave of tears when I wave to someone working in the field, and they return a wave with such generosity and joyfulness.
Our days start early and  leaving Lhasa and heading northwards – construction was evident. Newly constructed roads; bridges; cement plants; stacked concrete blocks; trucks filled with gravel; power plants; solar energy plants – everywhere eking into the rural landscape there seemed to be construction and development.
The expansive plains and soft hillsides with freshly harvested grain gently rose in elevation and soon we were amongst the clouds and snow reaching our highest elevation of 5,440mts.
It was so lovely seeing the yaks grazing on the pastures, but to learn from the nomads that they are unable to graze in their traditional highlands any more is disturbing.
It seems like we've entered sheep territory and I was so delighted to see so many sheep. Their minders stood guard in the cold wind and bright sun in the dry air. I wondered what it would be like to be the guardian of sheep across this harsh and ever changing landscape.
The road for the day was really good until we came upon some construction. Usually when you come to the place that the paving machine is working you have to wait until knock off at the end of the day to pass, but we were so fortunate that Penny was so adored by the site manager that he organized for work to stop and all the equipment to be moved to the side so we could pass. We were incredibly fortunate to have this happen to us twice, but the third time we were re-routed off-piste to a rather less comfortable dirt track. It was kinda fun though not really knowing where we were going and passing through the buildings of small villages hoping we would come to a more defined track soon. We did. J
The mountainous landscape was fascinating; especially the rather thin top layer of soil and nutrient and very low vegetation that seemed like it was buttered over the rock underneath. Wherever there were roadworks it was replaced in slabs in a very similar fashion to the turf at home. It looked like it would have to be pretty hardy though, as it looked like the rainfall here would be pretty low.
We've had the highest pass of our trip. 5440mts. Shuga La pass.  Penny did sooooo well. We were a bit uncertain about whether to take the planned route, due to conflicting information regarding the condition of the road; snow; and the actual altitude with our GPS being 140mts higher than the signed height.. … but both of us being as bold as we are, we decided to give it a go. I was calling out every 100mts in altitude and Max was keeping Penny filled with fuel and gently coaxing her to suck in as much air as she could! We made it! It was such a spectacular drive and I'm so glad we decided to take that route.
We visited a really authentic and beautiful monastery – the Sakya Monastery in the village of Sa'gya. This is the Sakya sect, one of the main sects of Buddhism. One of the ways to identify this sect is the colour of the homes in the region and of the temple and monastery, which are painted with a black ore from the surrounding hillsides.
I was drawn into there by the sounds reminiscent of my visits to Bhutan, where the monks played these century old wind instruments; Tibetan horns; which could be described as discordant, but I actually find it quite beautiful. It's hard to explain, but the sound produced by blowing every ounce of breath into a 3 metre long tube of brass is so unique, and always reminds me of the deeply spiritual nature Buddhism in this region of the world.
Our guide showed us inside the temple which was so interesting with it's statues; large wooden tree trunks as main building supports; but the most interesting for me was the extensive collection of ancient texts. 84,000 scriptures lined the rear walls of the temple. Silk embroidered fabric faced the facing edge of each block of text, and they were stacked 10mts high. These sacred texts were written between the 11th and 16th century. It was fascinating to learn that in the making of the paper, specific poisonous plants were used to prevent the mice from eating the paper. Astounding that such a collection of ancient spiritual writings are still in existence today.   
We were privileged to see the young monks learning how to draw and paint mandalas; and it was really lovely to hear the young monks learning their instruments in the outdoor courtyard. 
I really enjoyed the visit to this monastery.
Tibet is wonderful. I can't keep up with my journal posts.. but my next one will be on Qomolongma; Mt Everest. Oh my goodness. As it came into view I gasped and was so caught by surprise coming around the corner and seeing the Himalayas standing boldly in the morning sunlight.