You will have to wait a couple of days for my post on cheeses … 🙂 because I want to share about our fabulous day today. Adeus to Spain as we left Zagroza in Spain this morning and headed for the hills!! Literally! Off we pointed toward the Pyrenees.
On the horizon white tipped pyramids and rugged mountains beckoned my sense of play… and we climbed higher and higher north-east toward the brilliant white which was deposited in unseasonal recent storms last week.  Summer ! LOL.. and snow. Brilliant white snow!.. and I could see on the map that we were headed that way!!!… and I was excited!!!
A late start and an early cuppa on the road…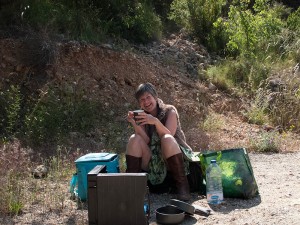 We passed through small towns… with many empty and abandoned buildings – a consequence of the flailing Spanish economy….
..and tunnels which burrowed deep within the mountain spurs which slid into the caverns;  old stone walls which have been abandoned and their role  as keepers of flocks and boundaries for paddocks now redundant – due to the seasonal rise and fall of icy water which is blocked by huge dam walls and pipes which encapsulate water to be harnessed in the hydro electricity system; cloned clusters of buildings with dark slate roofs which expand with skiers every winter.
… Then I saw ahead…. Approaching larger… more clearly… whiter…. And yes!!! It was SNOW! Yipeee!!! Picnic lunch of baguette and ham for Max and yes.. Cheese – glorious local cheese ( more on that in another post ) for me…. By the snow. We then drove a little further and at the summit of the pass at 2075mts there was a blanket of crispy fresh white snow…. And we played. It was so much fun. 20 degrees in my sundress in the glorious sunshine, making snowballs and playing like a child.. Laughing and slipping in the frozen soft snow.
We had to make tracks and descending the mountain we passed a local sheep herder taking his flock to the higher summer pastures. The threat of another cold snap would have passed now, as the old farmer surely would know when it was safe to take his precious flock up to the high country to drop their lambs. (I'll pop a YouTube link here when I have better internet to upload the short video)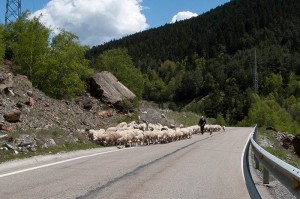 As we descended we passed so many more abandoned buildings – bereft of dreams of family and abundance. Yellow corn hung in clumps on heavy dark wooden beams in sheds – drying ready to be planted for the next crop. The clouds rolled in and the sky started to become dark and grey and soon the temperature plummeted to 10 degress and the roads became shiny and black and I had to put up my window and keep out the fragrance of flowers and sounds of the birds..because my arm was becoming very wet as a small weather front passed through. Farmers were desperately trying to rake up their recently cut hay and grass… with their plans for bales of dry hay now amended and the new destination a silage pit; not an unfavourable outcome – but one which accompanies the changeable nature of farming.
..and in the rain and cold we came across a sign which said Porte de France. Adeus  Spain… Bonjour France!!! We'd had so many late nights we thought we would find somewhere early so after seeing the word 'fromagerie' (can't ever have enough cheese in our little esky 🙂 ).. I utilised my French as I have been whenever we have been in France, and asked for a good Pension to stay the night. We were directed to one which was tres bon… tres bon!!! Amazing and beautiful and cosy and wonderful !  Here are a few pics from inside our room and having a cuppa outside after the storm.
This was an amazing walled city which oozed history. In the kitchen I met a lady from the Netherlands and we chatted about her travels.. and perhaps one day we may be able to accept her generous invitation to come and stay with her. 🙂
Until then … we have more mountains to drive over, through and around on our ambling route up to Germany where we will be staying with some other friends from the Vintage Car rallies. … so stay tuned.. perhaps my next post will be on glorious cheese!!!