Ok…. 2 weeks to go before we leave for our drive in Penny through India, Bhutan… and beyond… 🙂 (I will keep you updated when I can with sporadic wi-fi 🙂  )…. and time is running out for me to share the beginnings of a conceptual body of work which really excited me whilst I was taking the photographs in Greenland.
As a visual artist and philosopher … my  'bodies of work' are conceptually based; meaning they have a voice. I have a voice through my work. I have a voice which is expressed through not only each single image and artwork; but amplified through the collection as a whole.
Over the past few weeks I have shared some images which are of a 'narrative' nature. Some go a little further and express an emotion I was feeling …. or were catalysts for my introspection. For me – a body of work is different.
A body of work is a collection of images which has a voice…which expresses a vision; a philosophy; poses questions; reflects a unified thought or concept…. and is where the collection of images and artworks is far greater than the sum of the individual items.
I have just thought about using an analogy. On their own – single words can be powerful; yet when combined together in a meaningful way, make a more complete sentence which can be more descriptive; or create deeper understanding; or create the opportunity for creative thought, decisions, questioning etc; and in the same way that single artworks on their own can express a uniqueness; yet when combined together they are even more powerful in their expression…. (and this is also a characteristic of many things).
So…over the next 2 weeks prior to our departure for India, I will be sharing a single image from this embryonic body of work…. and then the last day make the collection into a slide show…. so that you view the small body of work all together; and explore for yourself the impact a body of work has compared to single images.
I don't want to verbally describe in too much detail what my body of work is about… although I will be sharing some words through poetry as I wrote in Greenland. These images and thoughts will be the basis for a body of work which has a voice… which speaks about my personal connection with the landscape and the unseen.
It will be exhibited in 2017 as an installation exhibition. Stay tuned …..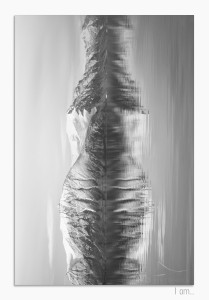 Click image once to see a larger clearer version. All my images are low res jpgs for web.