….. back to my adventure. I was collected by two beautiful locals to be trasferred a short distance in a little boat across crystal clear water to Reef Resort where I was welcomed by both Renate and Josef – who were just the most amazing and welcoming hosts.
After being presented with a beautiful fresh coconut with a straw in it – yum!!! Renate and Josef explained about some of the things I could do whilst on my stay. I was quite keen to go for a walk – after what seems like days in tranist! … so Renate suggested that I go to the back of the property; up the hill; over the fence; then left along the road until I came to a beach.
LOL…  over the fence…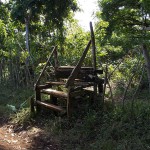 …then left along the road… LOL. My idea of a ROAD…. was definately NOT what I found!!! It was WAY BETTER!! It was a track through the forest!!!!
I really had NO idea where I was going. It was hot. I was sticky and sweaty. I smelled of Bushman insect repellent. My lips were sticky with sunstick…. and i was having the BEST time!!! All I could hear were birds – some songs which were familiar – roosters; and others which were absolutely beautiful and sticattoed through the forest.
There I was …wandering through this forest by myself on an island in Tonga…. who would have ever dreamt that???  I fet safe to explore and wander all day – which is what I did. At times I left the 'road' through little openings on the side, just big enough to walk through, where I could see there was a single lined track on the ground covered with leaves which had been compressed by irregular footsteps.
I came across plantations of taro, banana, pineapple and kava. I came across pigs which I was told in broken English and sign language (and much laughter) …know exactly to whom they belong and come close to their home in the evenings, yet wander whever they like during the day. Deep in the forest I came across a freshly woven basket which someone hadn't quite finished.
What I was starting to realise was that I was actually a part of a living culture. I was not attending some fake 'cultural show' where people replicate their traditions and I have a meal from a selection of 5 iconic pictures on a plastic board at the cafe. I was actually walking directly into a living, breathing subsistence culture where everything I saw was a REAL way of living.
Every small village I came to I waved my arm and when closer said Malo a Lelei. I was always greeted with smiles, a waving arm, Malo a Lelei – and further conversation which was way beyond my Tongan compendium of 5 words at this stage of my journey. There were lots of skinny dogs which roamed everywhere amongst the pigs and chickens… meandering through the sounds of continuing rooster calls and the wind in the leaves.
I walked for hours wandering along the paths and the 'road'! I followed the road down a hill and I could soon smell the salt of the sea air and the green and brown which had been surrounding me was now replaced by blue.. of the sky and beautiful water. (which I have since realised I didn't take any photos of! LOL)
Light came from quite low down and I realised it was coming from a break in the understorey and was reflecting off the sand… at a beautiful beach. Although it didn't seem as if there was anyone around, and I would have just loved to whip my clothes off and skinny dip in the crystal clear water – I was mindful that I was a guest in a culture where for females shoulders and knees should be covered; and that most locals who if they went for a swim would wear their clothes because they had no togs.  So in I went… and experienced the sensation of my long sleeves and sarong floating around me in the water. It was kind of fun actually!!!.. I didn't get sunburned and I was cool on the walk back to reef resort!!
On the Friday morning a beautiful local whose name was Nancy took me to the school in one of the local villages. "Work Together To The Best" was written high on a banner at the top of the classroom. The classroom looked quite similar to our junior classrooms – except that we don't have a generator permanently at the front of the classroom – to be started up when any photocopying needs to be done!!!! The children were amazing!!! they were so friendly and welcoming. We had lots of fun… and OMGosh!! their singing of their morning prayer was AMAZING!!! 14 little people with the most passionate loud harmonious voices I had ever heard… Love flowing from their chests into mine. It was an incredible experience.
Time to leave Kapa Island… such a fabulous experience with delicious food prepared by Renate and Josef; luxury fale accommodation…. and such memorable interactions with the local people who welcomed me with their smiles and open arms….
A cool coconut drink… then I was on my way…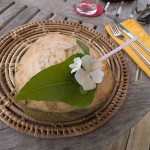 To continue my jouney now across the short passage of water to Neiafu where my WhaleSwim adventure in the ocean was to begin.