Yes… after some absence and time of sporadic and inconsistent posting, I would like to fill you in and share some of my experiences and photos from my recent amazing adventures in Tonga.
I've had an exciting yet busy year travelling to Chile and Antarctica with Max, and helping my friend establishing a Health and Day Spa for women in Brisbane, Fempower Health and Spa –  so my photography, art and writing has taken a back seat for a while and although I still connect with and observe the world in the inquisitive way I always do, I'm feeling bubbling inside me my urge to write, take photographs and be creative; and I'm excited about diving in to some uncompleted projects and also letting my expression of my experience in Tonga unfold through my photographs and writing.
So…now to swimming with the whales in Tonga – incredibly privileged for my third year. :-). Firstly; to take photographs one must have a camera and an underwater housing.  For those who know me, you know that I like to have the best equipment I can, and yes I am a little obsessive about taking care of it. I looked into camera and housings for the Canon 5D's… which worked out all up to be about $15,000-$17,000 with wide lenses and superdome port, so that was out of the question.
Then I was really interested in the Olympus OM-D EM-1 series. The Olympus OM-D EM-1 interchangeable lens Compact camera is a brilliant little camera and a couple of the lenses for it are superb. So I thought I would get it with 3 lenses, the Nauticam Housing and 2 dome ports. Hmmmmmm $11,000 all up. For my needs taking photos of swimming with the whales for 8 days in Tonga – INSANE!  So I went the G16 Recsea housing instead. Still $2k… but do-able; and I could use the G16 for my other travels around the world as my carry point-and-shoot.
MISTAKE!
And what was an even bigger mistake was that although I purchased my housing nearly a month before I left, I did not test it out.
BIGGER MISTAKE!!
At 4pm on the afternoon before I was to fly to Tonga, I placed the Canon G16 in the housing and the shutter button would not operate the shutter. The tolerances were so fine that there was not enough 'play' in the shutter mechanism to push the shutter all the way down to take the photograph.
So… 8pm on the evening before I flew to Tonga I was driving to Bunnings racking my brains for solutions of what I could do to try and lift the camera in the housing so that the shutter button would press down fully. I had a thought. What about cutting the tip off the end of a small door stop to make a little wedge???
Brilliant! …… NOT!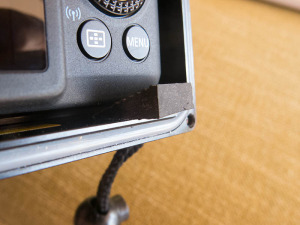 When I did this, the shutter button worked…but the pressure on the entire camera made all the other buttons inoperable. So that solution was a big FAIL! LOL.
On the way to the airport, Master Solution Solver Max from somewhere in remote China via satellite phone – suggested I get some double sided tape from the shed office and find some type of material to stick to just the top of the shutter; to give it a bit of extra height.
BRILLIANT!….. YES!!!
I cut out a little circle from the plastic cover from my little notebook, and that was the best work-around under the circumstances. The shutter worked about 60% of the time… which was better than not working at all.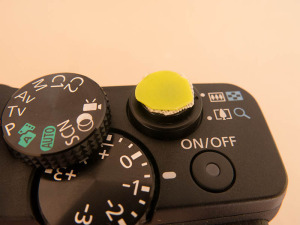 The Recsea G16 housing in general is superbly built and is of exceptional quality; except for the faulty shutter mechanism. The other issue I found however which is one of the characteristics rather than a fault, was that zooming was not possible past only a little bit – which I was aware of; but no-one told me, nor did I read anywhere that when the lens hits the dome when zooming – that the camera actually shuts down because of a "lens error". In my experience, sometimes if the lens is zoomed too close to the port I would hear a little clunk…and the camera would still stay on. In this instance zooming in just a fraction in small increments was absolutely useless, because my camera would turn off and it would be 10-20 seconds before it would re-start and by that time the moment was lost with the whales, and often by that time they were well on their way into the deep blue.
So… yes – I had some issues with my camera and housing. I was not prepared. I made the mistake of not checking the capacity and characteristics of my equipment before purchasing. I made the mistake of not checking my equipment well before my trip. My photographic journey was limited. I didn't get my photos of my 'flying whales' which I really wanted to build a portfolio of because I'm truly excited about seeing the whales in that way.  As I was connecting with the experience of interacting with the whales, I could not let that come through my camera and many images were left in the ocean, due to something which was at that moment beyond my control; yet ultimately I had to accept responsibility for.
You will know by now that all my experiences teach me something about myself, as I am committed to and hungry for this Self-knowledge and connection with that which is beyond within me.
I'm feeling a little dismayed about lost opportunities; recognising how quickly time passes and how short my "wild and precious life" is (Mary Oliver). I connected with what is innate and moves me. I reflected on what is important to me… what I want to experience… what fulfils me… what to prioritise… what to just accept and make the best of under the circumstances…. what to say "Oh Well" to – and what is important enough to me to ensure that in future my actions support my inner voice and knowing.
My experience in Tonga was incredible. Humbling. An absolute privilege. I often just put my camera to my side and looked into dark, knowing eyes and swam alongside each beautiful creature, regardless of my limping camera equipment. Yes… it is all about the experience and not the images. My images however continue to provide an opportunity to connect with myself when my wetsuit is dry and I am far from the salty spaces of the Tongan seas; which is why I would have liked to not be limited by something which is not working and functioning as it was designed to.
I DID have an absolutely amazing time, filled with wonderful privileged experiences….so over the coming weeks I will be posting some of my adventures and images, so stay tuned. 🙂
Flying Into the Night…