The landscape changed again from Zanda to Rutog. It was so dry. Rock was exposed. Prayer flags shivered in the cold wind on the tops of the passes. Snow was shrouding the surrounding mountains as we drove in cool sunshine in the sweeping valleys.
The geology of this area was extraordinary. Time folded and eroded in the rugged landscape. The Tibetan Antelope looked healthy and strong…and so did the herds of cashmere goats…. surprisingly, because the vegetation seemed to be sparse.
The road was good. Recent tarmac which had been prepared by a different operator than a few hundred kms further south! This stretch we could travel about 80kms/hour on, but much more slowly on the hairpin turns which we are always very careful with. My job is to always keep an eye on the digital map on the iPad mounted on the dash…and let Max know when a hairpin is coming up… and also look for the exit-side of the hairpin for oncoming traffic. "Looks clear. Yes"…. is always a good call from me… but occasionally – " Stop, Truck on our side!", is a call Max doesn't like to hear!
Penny was running really baldly – coughing and spluttering ….and we thought originally it was a spark plug issue, because we hadn't changed the parks plugs even once so far… but after the full second set of plugs I said to Max that we were just feeding in spark-plugs, and I thought there was another issue. Max thought then about scraping the terminals in the Distributor cap.  Brilliant. Penny ran like a dream after that; and has ever since!
We only had a few snow flurries through the last of the three passes for the day, (highest 5, 387mts) , but the cold seeped into the valley as we approached our overnight stop. It was windy and horrid outside. There was a wind storm here as the snow fell on the peaks above. Visibility was poor as cold dust howled through the gaps in the windows and doors of our simple accommodation.
I really wanted to go for a walk in this town because as we drove down the street it looked sooooo interesting. Pool tables outside indicated how much rain here had… like none! The women were wearing such colourful skirts, aprons and scarves… and seemed so friendly as we drove in; and I wanted to have a wander and shop. I've been searching for a warm head scarf like the Western Tibetan wear, but my hunting efforts have been fruitless.
My memories of a few nights prior about perhaps exerting myself too much at altitude and not being able to sleep, was fresh in my mind; so we just nestled into our room and I watched the children play in the dusty wind tunnel between the buildings and was grateful we had navigated the pass before the snow storm.
EEEKS…… Minus 12 … -12 deg and we left all rugged up heading further north-west from Rutog to Sogot.  Most of the day was spent driving in -12 to -4 with a brief warmer stint late afternoon. It was cold, but I was snug in all my warmies.
We passed Lake Dyap Co of which about one third of the western end is considered as part of India. The streams were starting to freeze as the daylight of the days started to disappear more quickly. The sheep and goats seemed to be on the move more, trying to scrounge whatever grass pick was available. The higher peaks were starting to be covered more thickly with snow.
We have to be fully aware and alert whilst driving Penny at all times. There are a significant number of truck accidents and skeletons of trucks in valleys and ditches. At any time coming around a corner there can be a truck on the wrong side of the road hurtling toward you… or one broken down on a blind bend… with a few rocks in front of it to warn you. Sometimes there's a warning cone which is added bonus to the warning rocks.
Today we drove  300kms kms above 4,900mts in altitude. I pondered the first pass we climbed weeks ago… and being rather uncertain about being at 16,500 feet above sea level… but now being at 17,400 ft.. 5,300 mts above sea level – we seemed to take in our stride.
We left our last two high passes our highest 5392mts altitude; and I felt a twinge of exhilaration mixed with a little longing… longing to stay longer in Tibet. I knew as we left this last pass that the descent from the Himalayan Plateau tomorrow meant that there was to be no more sweet milky tea; no more prayer wheels; no more prayer flags; no more yaks; no more friendly Tibetans.
Sogot to Kashgar was perhaps the most spectacular day's drive of the whole journey so far. The mountains were breathtaking. The road was pretty ordinary, with construction, dust, rocky areas, and narrow road sections in which gravity was taking a rather firm grip and looked like sliding away in the next heavy snow melt.
All the snow melt runs into the valleys and then into lakes and deserts. None of this water flows into tributaries of any river.
I was sooooo excited to see Bactrian camels along the side of the road.
I don't often get a little jittery … but for some sections of this road through the mountains I was leaning over on to Max's lap thinking that my weight would help keep us on the road … as he was on the uphill side of a single lane, rather sloping surface; which had cracks ready for the next slip…with no guard rail and a sheer fall of about 600mts to the valley floor.  Ugggghhhhh… Glad that section was over… but it was so exhilarating after it was completed to look back and see where we had driven.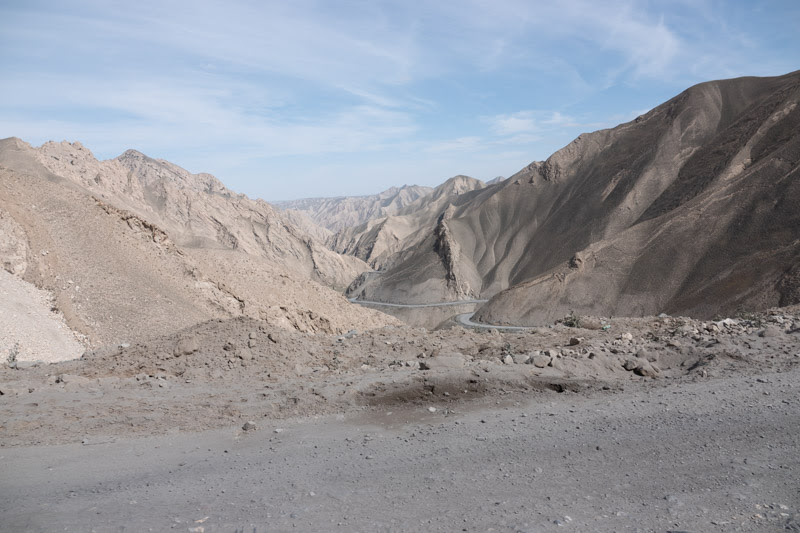 Onward to Kashgar, passing an expanse of struggling Poplar type trees being planted to help prevent the advancement of the Taklamakan Desert.. called one of the largest environmental greening projects on the planet. There were a lot of water trucks being driven around and water channels trying to keep the flailing trees alive. This concept seemed a little strange to me…. but I'm only an outsider and don't really know the full story. 
The clear blue skies of our past month were now replaced by a warm dusty haze. The sounds of the city replaced the silence of the spaces in Tibet and the flicker of the prayer flags in the wind.
Kashgar was different than I had imagined…. so stay tuned for my next journal on our few days in Kashgar.