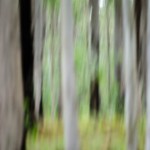 I found it quite confronting working on my lists of things to do to Complete things to make the way for the new… and Goals; because I saw in front of me how many items on my list I hadn't completed and how many of my goals I hadn't actually achieved.
I spent some time feeling a bit despondant that in particular so many of my Creative Goals had been on my list for such a long time…even the short term ones. I went for a walk in the bush the other day to just quietly reflect on which direction to take with some of my Creative Goals, and examine why so many hadn't been achieved.
Whilst looking at the tall grey and black trees I had an epiphany. I realised that there was more of the total bushland than just the tall trees which were the most prominent. There were the grasses. There were the shrubs. There were the saplings. There were flowers and orchids and mosses and ferns.
There was more to my achievements than what I had listed on my 'to do' list. I had only been focussing on the prominent 'trees'; and not given myself credit for ALL the other components of the 'bush' – all the other smaller things which I do in my life; the things which I JUST DO…. without thinking … automatically out of Love…..without writing them down, because they just seem to happen without thinking they are 'special' or anything that I HAVE to get done.
I didn't write down all the times
I had to cook a meal for friends and dropped them over to them. I didn't write down all the times I had to sit listening and supporting friends. I didn't write how many times I had to just hop in and 'got things done' after a conversation with someone who was struggling getting things completed. I didn't write down all the meals/lunches/washing/nursing/loving I had to do. I didn't write down all the time to spend supporting family members; dealing with the curve balls that life throws at each of us; dealing with legal and medical issues in relations to James. All of things just came automatically and I did them without writing them down on my "TO DO LIST"… because I didn't even put all those things in the category of "having to do them." They were things I JUST DID.
I realised I hadn't looked at the BIG picture. The WHOLE bush. The lines between what I had actually achieved and what I thought I had achieved were blurred; because I hadn't put so much of what I have achieved every day on to a "to do" list.
I'm not even suggesting that I or you do that. What I am suggesting is that both you and I perhaps cut ourselves a bit of slack and step back and have a more careful look at everything we do in our lives – including all those smaller things… the grasses…. the shrubs…the mosses..the ferns… the things which don't readily stand out, and acknowledge where they fit in our goals.
For me … ALL of these things fit into my Goals of being a loving, supportive, wise wife/mum/friend…. and of all the goals I have – these are the most important to me…… so in actual fact, I AM achieving and fulfilling some of my Goals in my life.
Now that I have this awareness… I don't have this feeling of being despondant that I haven't 'done anything'…. or achieved very much. I still have a wonderfully long list of things I would like to achieve …. but now I have a different mind-set, and can approach my ever-growing list of 'things to do' from a new place of awareness. 🙂