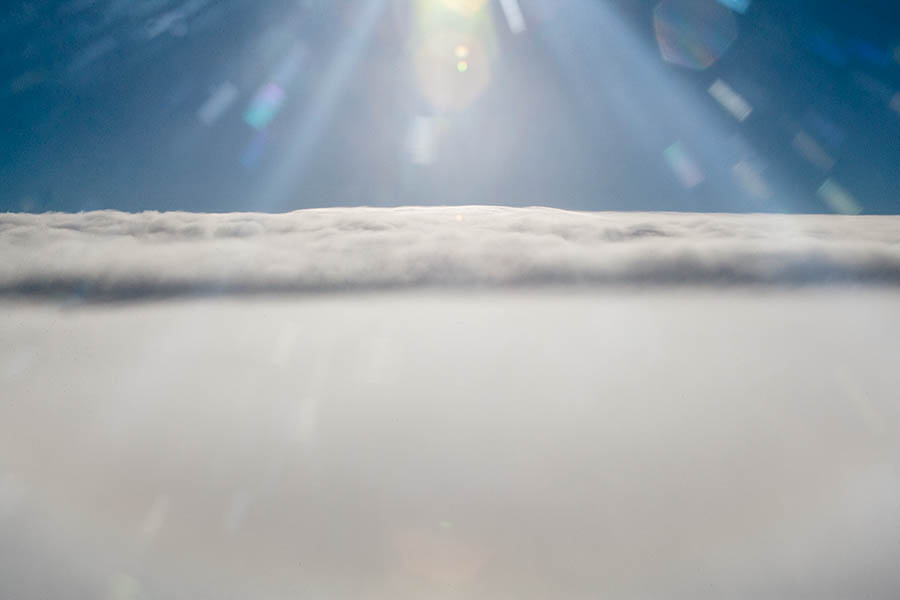 I just snapped away out of the airplane window, random images – without thinking.. or actually having any intention or idea about what I would do with them. I just enjoyed looking at the world through my lens and taking the photographs. I was captivated by the landscape of the expanse of soft cloud and the way the light was refracting through the (dirty) airplane window.
It was only yesterday being home nursing Max on his recovery, that I quietly sat and revisited some of my cloud photographs. I only saw a couple and then this one above really interested me. I thought I would have a play with it.
I wondered what it would be like if I converted it to black and white. It started to speak to me and as I experimented with different conversions it opened opportunities for me to see such mystery in it.
As many of you know I do a lot of philosophising (not sure whether that is even a word.. LOL ).. but I like to allow myself to be open to explore the deeper aspects of my nature, and this image was a powerful catalyst for personal inquiry.
I thought you may be interested to see both the original and final image; and how although I didn't have a vision, idea… nor an emotional response to an image at the time of capture… and I may well have deleted it if I hadn't have had terabytes of storage: the resultant image became a meaningful one for me.
By just playing with an image and experimenting with different conversions; the image just presented itself – without any controlling of its direction from me of what I wanted it to say.  I didn't have a clue what I wanted it to say. It just evolved as I was playing, and I just observed my own response as the image morphed in accordance with my experimentation. I interacted with it.
Perhaps this might be something for you to have a go at as well. I know I have often spoken about observing one's response whilst in the place of taking the photograph… but don't dismiss the ability to really observe your response whilst playing and experimenting with an image back on your computer screen. I have spoken about PLAYING before in a previous series on my 5 "P's" of photography…. and the importance of BEING PRESENT. I'm certain that because I was PRESENT and observing my excited response to the mystery which was developing in this image, that I kept playing and interacting with this image.
This resultant image for me has become quite a powerful one for self-inquiry –
"From where does the light come?"