Well my best intentions to keep up with my daily reports were thwarted by lack of internet and a pretty full schedule fitting as much as I can into the daylight hours of Northern Europe – which I must say are VERY long. It hasn't seemed to get even remotely dark until well after 11pm in the northern parts… late dinners and very early mornings has meant that I've only had a few hours sleep each night so I seem to have become way behind in my intended daily updates.
We are now in Portugal and having an amazing time in this beautiful country – albeit a country suffering incredibly with the economic crisis… but more on that in a later email. Let me go back just over a week and share a little about the historic rally from Paris to Madrid.
Our first stop was the most amazing accommodation in Versailles.
OMG !!! My view from our room at the Tranion Palace Versailles !!! The first day was the scrutineering and preparation day for this 110 year historic rally from Paris to Madrid. I have never seen let alone stayed in such a magnificent and luxurious hotel – bordering the palace of Versailles. I went for a run early just as the fog was lifting with the sun on the horizon..which was VERY early around 4am and ran through the gardens of the palace and was so overwhelmed I cried. Statues of Zeus or Poseidon lunged out of fountains, statues lines boulevards, groves of trees formed patterned plots leading toward fountains along paths softened with floating flowers on soft stems; grilled gates pointed with gold leaf… And the sense of history and respect filled my lungs. This is such a pivelige to be a participant in this rally which was gifted to us.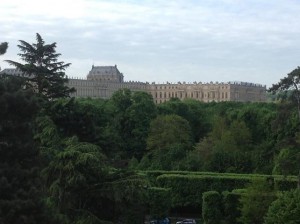 We then all tinkered with our cars and ensured they would start…. some of which didn't and required a push start.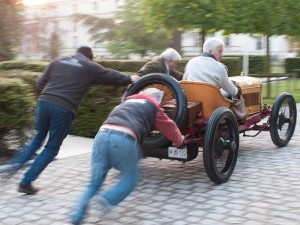 Everyone was admiring all the beautiful cars in the car park. It was a real privilege to see not only the development of mechanical engineering of the automobile…but the respect that so many people had for this human ingenuity. Cars were disrobed from their covers, polished, hoods lifted so that engines could be admired and much conversation had about the lineage and previous history and ownership of each and every car.
And then we were off!!!!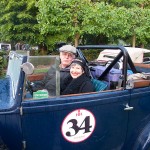 ..and a few stops along the way…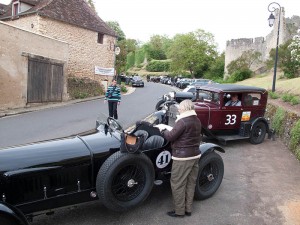 Did I mention I was the navigator!!! OMGosh… I didn't have a clue what rallying was. I DO NOW!! We were given this beautiful leather satchel and in it were what is called a Tulip Book – with Tulips in it.. and NO.. NOT flowers.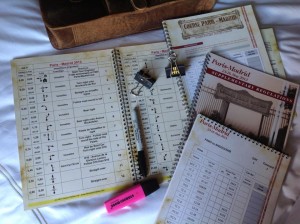 These are the control point and the little icons with the instructions about where to go. I had to navigate our car – fast – to Madrid. I have to say that there aren't practically ANy photos of France or Spain along our route because all I saw was the road in front of me and the Tulip book of instructions on my lap. It was challenging for the first hour or so with trying to get my head around everything …. but once i got the swing of it I was brilliant at it – except for one of the challenges on day 2 where I was instructing Max to take a route 8 when I should have been doing a Route 7. OOPS! No wonder things didn't match up. I will NEVER make that mistake again.
Then things turned pear shaped.. well actually we are rather grateful that we didn't lose our brakes going around a corner in the Pyrenees… but for about half an hour before we came to that conclusion, Max and I were quite disappointed that we realised we were out of the rally and could not complete our journey to Madrid.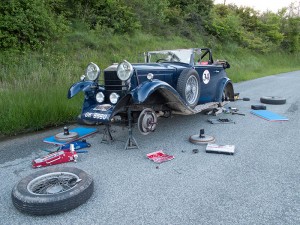 We managed to get rides with other competitors and officials and participated in the reception and dinner at the Ritz in Madrid.. which was rather a special occasion.
…..So.. we are safe and happy. I had an incredible experience; learned new skills I didn't know I was capable of; recognised that I actually liked .. perhaps even LOVED (hehehee) the adrenaline of going fast in a car (which was quite a surprise to not only Max but myself as well 🙂 ); met some beautiful, interesting and generous people… and all in all was just a fabulous experience..
My next post will be on our adventures in Portugal where we are at the moment… and thinking about popping of today to France and then to stay in Germany with friends for a few days before returning to the UK for a week.. then home at the end of June.
I think though my next post will be on CHEESE… glorious cheese… Until then…