After a two month journey across the ocean in a container, we finally were reunited with Penny as she sat forlornly in a wet storage yard at Pier 23 at Tilbury in the UK; unbeknownst to us having been unloaded the day prior and sat overnight in pouring rain awaiting for us to collect her. At last she was with us again and off we went, excited to be on our journey toward Morocco.
That excitement was shortlived as within a few hours, Max landed himself in a cardiac ward in Royal Berkshire hospital where for 4 days he was managed for atrial fibrillation. It was a pretty scary time for us, but fortunately his medical care, prayers from family and friends and medication has enabled him to be discharged and was advised by the cardiologist that it was fine to continue on our planned journey and see a cardiologist for further management when we return in December.
For those who Know Max, restraining his exuberance is not something he does with ease – yet he is endeavouring to take things at a much more sedate pace than he usually does. We have amended our journey and decided to take the 24 hour ferry across the Channel and the Bay of Biscay to northern Spain, saving 4 days driving across France. The ferry ride was amazing and so much fun! We had a wonderful cabin with a HUGE porthole, which I kept peaking out at night and watching the white waves alongside the ship.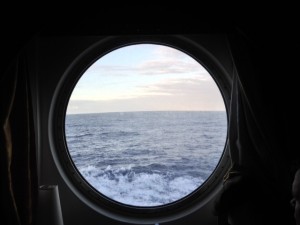 I loved going to the top deck where the wind was so strong that at one stage I found it hard to breathe, but I worked out how to tuck my nose into my collar and that quickly solved the problem of oxygen debt.  I had fun playing with contracting different muscles keeping myself upright in the strong wind. My camera in it's bag stretched stiffly perpendicular to my buffeted body in the strong wind. 24 hours seemed to go so quickly and the next thing I knew I could see mountains on the horizon and Hola to Spain!!!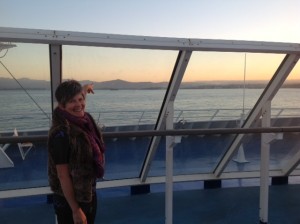 Hola… Estoy aprendiendo Español …. Mil novecientos veintitrés Vauxhall…. Me gustaría un habitation para dos por una noches por favor. … and tucked up for the night in Spain my Spanish wasn't' quite adequate enough to get us a room and the reception staff defaulted to English. I think a few more lessons and a bit more practice is required before I can habla Espanol!
On the road tomorrow but this time we haven't a clue… until then..! Buenos Noches!