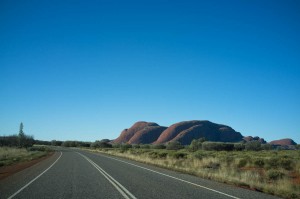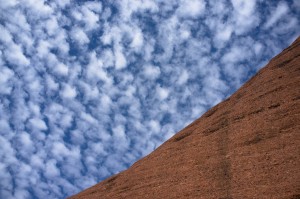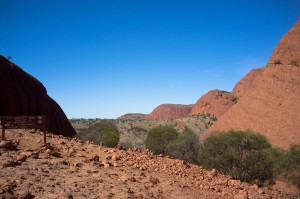 Kata Tjuta is a Pitjantjatjara word meaning 'many heads'. This area is important and is sacred under Anangu men's law. According to these laws, details of the stories cannot be revealed and access to some areas is restricted, so it is very important to stay on the marked walking track.
This Valley of the Winds walk was absolutely amazing. It is 7.2km and is marked as an easy 3 hour walk… but Max and I enjoyed our amble so much, we took over 5 hours to complete it.
The rounded domes are composed of conglomerate, a sedimentary rock consisting of cobbles and boulders of varying rock types including granite and basalt, cemented by sandstone.
There are 36 domes which stand strongly and exude a presence which really needs to be felt and experienced first-hand, because it is quite difficult to explain how I felt whilst walking amongst them. I walked quietly and respectfully and listened to the wind. I felt inspired. I felt humbled. I felt insignificant as I realised the age of these rocks.
Every cubic centimetre of this planet is magnificent… but there are just some places which have a 'feel' about them, and arrest me in my tracks. I have been privileged to experience so many of these places – especially on this trip, and this is one of them. As the domes rise out of the plains; for me they stand and speak to me to 'take notice'… to take notice of everything in my life. I felt their presence was a catalyst for self-reflection and connection; and was a place where so many others had also felt the same. This is a truly amazing place, and experiencing walking here I know has affected me in ways I'm not even cognisant of.
If you would like to see a small gallery of happy snaps from our walk, click the small image below on my post to view in your browser. To see what I saw as I walked, click the first image to open it, and then click 'next' so you can walk with me.