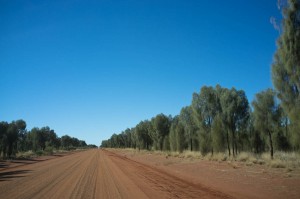 This was a really beautiful drive; with days of flat country, surprising pockets af amazing trees; incredible ant homes; burning country and fire…..and lots of rough dirt road which I didn't even photograph because I needed to have every ounce of attention to keep us on the road with both hands on the wheel!!!!
After a few days, all of a sudden this rounded rock formation peeked out from the horizon. Kata-Tjuta !!! As we approached closer this amazing place engulfed not only my vision – but seemed to touch my Soul.
Click on the small image below if you want to be in the car with us and see what we saw on our journey for those few days. I have found the best way to get an idea of the sequence as we saw and travelled across the land – is to click on an image and then click the "Next" button…and that will keep the images in sequence.
There is nothing like actually being there though and hearing the wind…. tasting the dust…and feeling the excitement as these amazing round formations grow on the horizon.