Sometimes the narrative is necessary – as I have done on many of my journeys around the world; collating a visual diary; telling a visual story….but there are other ways to see and feel the world; and for me exploring beyond the narrative is where I dive more deeply into how I respond and interact within the world and is where I learn more about myself. I have recognised that for me just sticking to the narrative is safe. For me…the narrative isnt enough.
When I stick to just the visual narrative in my visual diary happy snaps, I find that somethign is missing. I have recognised when I just stick to the narrative something within me is left hungry. There is somethign which is left unexplored and wasted. I recognised that is why I love writing about my experiences so much – especially when I am travelling, because I can explore ME – beyond the visual story where I can go beyond and deeper into something which is more meaningful for me to explore in my response to that narrative. It is only then that I can connect with and then share with more honesty who I am.
There are some artists whose images tell incredibly powerful stories. For me my process of exploration and going beyond the narrative is that which is the meaningful part of my photographic process, and it is that which enriches my life and commences to quench my hunger.
In this image below I have taken a photograph to tell the narrative; the story. This is an image of arriving at the Port at Algecerias from where I explored going beyond the narrative of where we travelled. In the example I am using to go beyond the narrative is in an abstract way….but there are many ways to go beyond the narrative which I will share over the coming posts.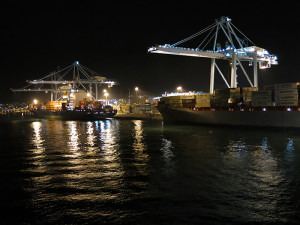 I was fascinated by the colour and movement of the light on the water.
The following is a tryptic of three of my images where I explored this light and movement and played with how I viewed the light and water. I went beyond the narrative.
There are many ways to go beyond the narrative if you want to experiment with different ways of viewing the world and finding out more about yourself and create art which speaks of your own unique voice.
For me focussing my attention and awareness is the primary place to commence. I feel something in my body and that is my inner spark which guides me where to explore visually and then to another level of reflection and connection. I immerse myself in focussed awareness to where I feel I just lose myself in the mystery of what I see and feel.
In this instance I zoomed with my canon G15 point and shoot into where the light was on the water. Then in processing – I played. I inverted the images. I wanted to 'literally turn my world upside down' and explore what I saw when I changed my perspective of what was in my vision.
You too can experiment and play with exploring how you can view the world in different ways and learn about yourself in the process. Next time you have satisfied yourself that the narrative has been achieved – try exploring connecting more deeply with what interests you and what you feel; both within your body and your emotions. Connect with expressing what you connect with through images which speak of your creativity and the different way you have observed and interacted in the world…and in doing so reveal more about those hidden aspects of yourself to yourself – as well as to others, for them to be enriched by your exploration, connection and communication of that exploration.
In my opinion this is a very powerful way to deepen my experience within myself and with others through the connection and communication of how I have played and explored with what I see and feel beyond the narrative.
Below is a little card I made for well wishes for those in my life and for those who have come here to read my Blog …and the words will indicate how my image beyond the narrative of Algeciras, has helped me to connect with what is important in my life.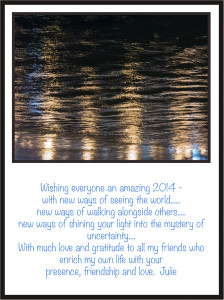 …so I wish you an amazing 2014, with new ways to see the world….new ways of walking alongside others….new ways of shining your light into the mystery of uncertainty.
With love, Julie