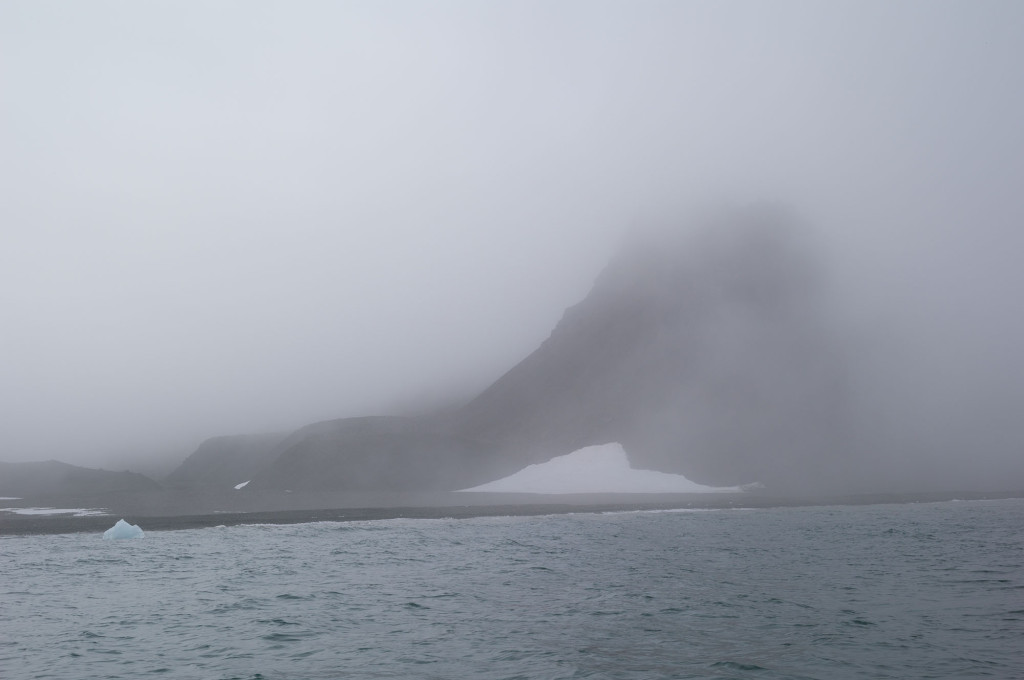 It was foggy. 100 mts visibility at the maximum. Hadleigh was about to pull the plug on the zodiac excursion; but he needed to keep the guests doing something before the afternoon shore excursion or iceberg photographing; so he continued on with the plan to look at the geology of the shoreline in the zodiacs.
The previous afternoon we had been briefed about Polar Bears, and that to see one on our journey would be unlikely because firstly they are rare – and secondly they would be most likely further north on the sheet or sea ice. We were asked for this excursion to keep a look out for them… but not to get our hopes up.
I was excited. I could feel in my tummy that we were going to see a Polar Bear. I popped on my Polar bear fluffy white hat… and I said to Wendy (the Avian specialist from previous trips who was journeying as a passenger this tour) that "we are going to see a bear!"
Wendy said "It is good to be positive..but it is highly unlikely and the possibility of seeing a bear is next to zero in this location." Wendy sort of giggled at my child-like enthusiasm.. not believing for a second that we were going to see a Polar Bear.
From the ship we couldn't see the shore through the fog.  We went close to the shore to see the rock formations and in the distance I saw this moving white blob. I made a HUGE mistake by yelling out "Polar Bear" – as I do when I am on a whale boat… when I should have just indicated to our Zodiac driver where I saw the bear. Note to self!!! Fortunately the bear didn't seem to hear my exclamation; and all of the zodiacs were able to come close to the shore and look more closely at it.
This was amazing… seeing such a rare animal in the wild. What a privilege.
Back on board just after lunch Wendy came to see me. Wendy apologised for making fun of my enthusiasm and conviction that we were going to see a Polar Bear. For those who have been subscribers to my Blog for some time will know of a very similar thing which happened in Tonga and my sighting of a whale which we played with for 40 minutes… and the following day Al asking me which direction we should go to find the whales.
Wendy playfully but honestly asked me if she could put in an order to see 2 sorts of rare birds – for which I can't for now remember their names; but I told her I can't magically produce them – but I do have a sense of seeing ahead of time things and sometimes into the future. We hugged with acknowledgement and recognition of a gift I have; and that there is something special about the unseen, unknown and not understood.
Speaking of the unseen…. I managed to get myself in a muddle and somehow formatted my card from one of my cameras which had my long lens on it – WITHOUT transferring the files on to my hard drive. ;-( … so my close up images of when the Polar bear was closer to the water line with the splashes on its paws… and the remains of a carcass with 2 ravens and an arctic fox will remain unseen by yourself because I have no record of them other than in my mind.
Note to self… be more disciplined with procedures when using 2 cameras and downloading at lunchtime after such an exciting morning of seeing a Polar bear!!! I knew we would.. 🙂 !!!!