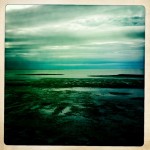 Max and I had a wonderful drive to Shorncliffe on Sunday in Veronica.. a 1923 Vauxhall. Last night I was going through my iPhone happy snaps which I used the Hipstamatic iPhone app. for the first time. When I was looking through the photos last night…. something just hit me – I realised something in relation to  illusions; and FANTASY versus REALITY.
The photos were nothing like what was was real on Sunday. They were nothing like what I recalled of the day. My iPhone through this little photo app. distorted the reality of what the actual scene was like on Sunday – and ironically even my perception of it. Seeing these images made me realise how easy it is for my mind to imagine or think about something; which is far from
the reality of what it really is.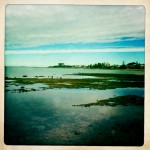 I recognised how powerful the mind is to create illusions about  a situation and make it seem real. Don't misunderstand me. I am not discounting the value and importance of imagination – which is a most powerful and necessesary part of our existence; to help us live creatively in opening up to boundless opportunities and help to formulate our dreams and goals… This is different.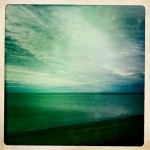 This is recognising that the reality of something just may NOT be what it seems in one's mind…. and that it is important to be continually aware that one's memories; dreams; wishes or what one wants; aren't actually housed in fantasy. This is another opportunity to develop one's self-awareness… to determine whether one is 'dreaming' illusions or fantasy… rather than having true awareness in the reality of a situation as it manifests in the physicality and experience of this world.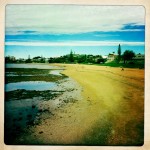 I recognised the importance of checking in and really looking at the elements of something – for example here looking at the sand; and recognising that it isn't 'really' like that at all… what I see is just and interpretation or illusion of what the sand is really like.  I can now transfer that concept to other areas of my life – so that I am no longer delusional about things for which were housed in fantasy.
This little Hipstamatic iPhone app has provided me with a wonderful opportunity to develop greater self-awareness.
I'll leave examining the question "What is REAL", to another day! 🙂