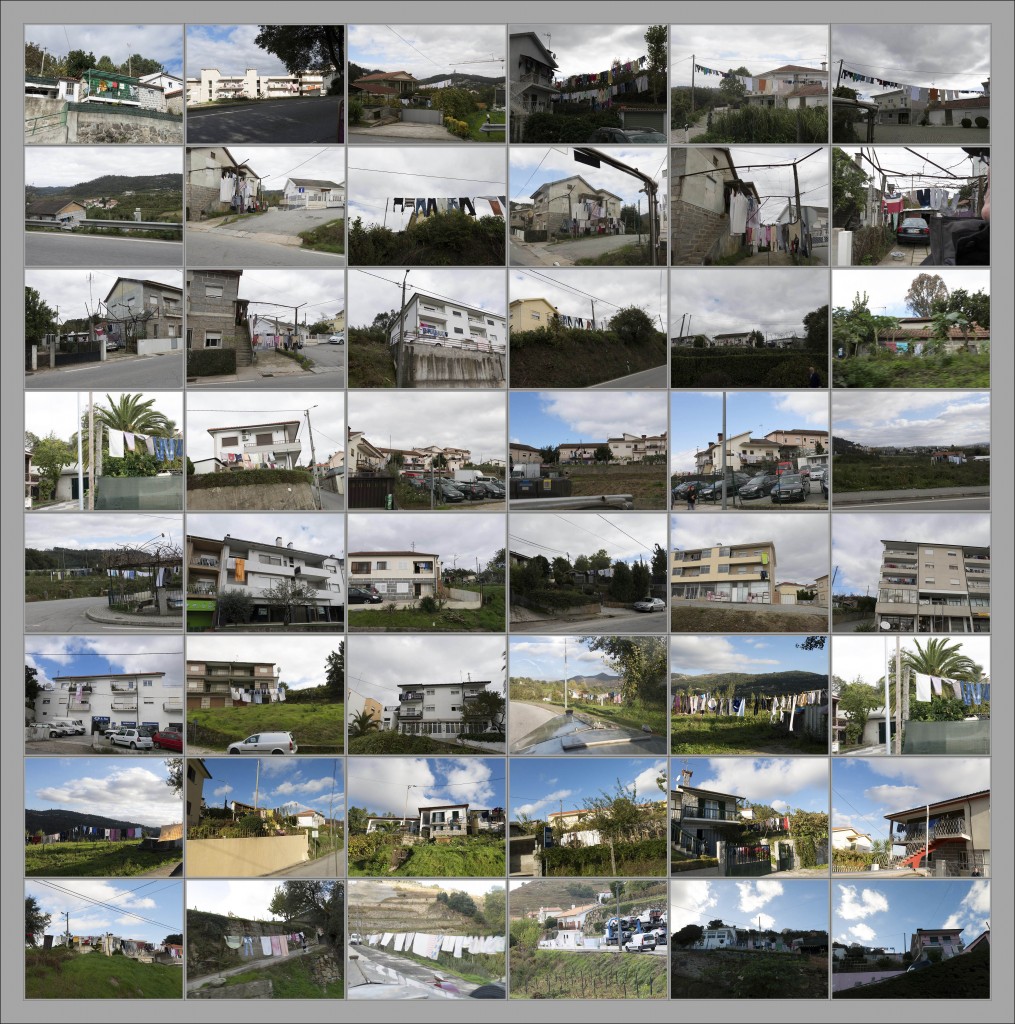 Well… so much for some of the biggest computers in the world predicting the weather!!! The rain which was supposed to stay around for a few days, blew across to Spain…. mainly across the plains ..hahaha… on it's way to the rest of Europe – leaving autumn leaves and tracks of soil and earth down the mountainsides dribbling like chocolate and caramel topping – now set on roads and footpaths.
Patches of blue and white puffed in the gentle wind and everywhere we drove it seemed that in Portugal here, this Sunday ……was washing day!!! I have made a collection of images of how amazing the washing was hung across the countryside.
I know you may be wondering how washing could be so interesting…but it wasn't only the interesting form and presence across the landscape which was interesting for me – it was the social aspect which accompanied the washing and drying of clothes.
Jeans and socks and t-shirts and coats and undies…. all hung out and brought in by groups of women who chatted and seemed to congregate around long lengths of line, with baskets on hips – with clothes drying on balconies; amongst grapevines; between power poles; around trees; and some hung like files in a filing drawer on racks on small yellowing verandahs in the afternoon sun.
Whilst the washing was being done it also seemed that all the men were out together. Boys walked in groups up and down the mountains…carefree. Older men stood in groups nodding and looking wistfully over the valleys. Elderly men sat and laughed and smoked cigars held in rough strong hands, and lifted their fist and called out cheers of celebration, as Penny drove past their brotherhood clumps – carrying two intrepid world travellers.
…so today in Portugal it seemed as the rain left for Spain… it was washing day!
So to see more of the interesting way clothes draped this part of Portugal, click the montage above or open the gallery below to see each of the images more carefully…remembering that these are only happy snaps as we drove by..so no tripod..LOL.. Just imagine yourself in Penny wondering what this Sunday – washing day in Portugal brings to those who wear those clothes.