It was heaven to not see signs in an alternate 'English' version. It felt like we were once again in a foreign country. This time it wasn't the poorer nations; but rather what seemed to be a very wealthy country, with a language I had absolutely no skills in deciphering.
On some past journeys to France, Spain, Chile, Portugal, Switzerland… I've been able to meander through the words and deconstruct them using my rudimentary Latin, French and Spanish… but Norwegian was a whole new ballgame! It was kinda fun being clueless .. and quite lovely to spend the week in the city where English wasn't catered to just for tourists. It felt like I was actually in another country.
It was interesting to note however that despite the lack of visible English; English was spoken as a fluent second language. It was however helpful to read the English version in the Museum and Art galleries… but those were places where international visitors were expected to visit… so the use of English was appropriate.
So…now our attempts to tackle the Top 10 things to do in Oslo.
Awake before the sun was – body clocks not quite adjusted; we decided to amble through the clean quiet streets  of the city toward the wharf. First thing on the list was the waterfront at the wharf.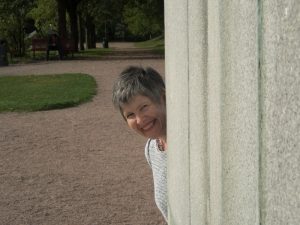 Number 2 then was the Sculpture Park. What a treat this was. We had the most exquisite time wandering with more than 200 sculptures by Gustav Vigeland (1869–1943) in bronze, granite and cast iron; and Vigeland was also responsible for the design and layout of this magnificent park.
For me  The Wheel of Life (Livshjulet) was the highlight. Two of the sculptures actually brought tears to my eyes. I felt the tenderness shared by the elderly couple; and the wisdom being passed from grandmother to grandaughter.
Number 3 on the list was the Folk Museum. For me the knitting and textiles was such a treat.
Then a wander around the road to number 4 – the Viking Ship museum. That was pretty amazing!! I didn't realise the ships were used to bury people and they found these ships under mounds of earth!!!! Quite fascinating really. It seems that the idea must have come from the Egyptians some time during the trade with northern Africa back-in-the-day… because it seems that food and items to make the afterlife more comfortable were buried alongside the people in the ships under the mounds of earth!
Number 5 in close proximity was the Kon-Tiki Museum; a collection of illustrated stories and artefacts from Thor Heyerdahl's journey in 1947  across the pacific Ocean in a balsa-wood raft. Was interesting to learn about how this expedition originated and unfolded. It was becoming more clear as we went from museum to museum, the quite extraordinary adventurous spirit of some!!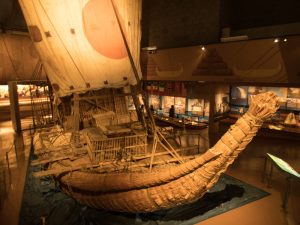 It was clear by now that we were Museum-ed out so we decided to call it quits on the museums until our return in mid-October after my residency.
We did however walk one day to Number 6 on the list which was the Edvard Munch museum. We started with the informational movies which were really, really good. We learned that Munch was so prolific – creating in excess of 40,000 works over his career with 5,000 works held in the museum. Out of our seats to look at the galleries – rather one gallery space to realise there were only a dozen or so on show… and NO Scream! I could not believe it. The works which were on display were amazing… but no sketches; no woodcut prints; no Scream!! EEEKS! One of their 'Scream's' was being restored downstairs.. and the other was in Tokyo. We will venture to the Art gallery in mid-October to view it then.
One of my favourite parts of travelling is actually doing as locals do and we were fortunate to be a part of the Oslo Marathon. What a hoot that was!! Music. People… and 25,000 pairs of running tights in events through the day. What a celebration of physical stamina and personal challenge and determination. In no time I found myself clapping and cheering "Hiya hiya Hiya" – sounds like that but have no idea how it is spelled – but apparently it means something like "Go Go Go." Those lead runners!! Boy could they run!!! Such a long stride and for 40kms! Geez!!  White bibs with numbers was the appropriate apparel for the day. …….Blue sky. Cool. Festive. .. was such a lovely day.
Pizza. Calzone. Pasta. Pastries. EVERYWHERE! What is going on here?!?! Seems like Italy. Pizza certainly is certainly entrenched in the foodie culture here. I don't know what I was really expecting… but not quite so much pizza everywhere! Sort of like the construction. Scaffolding and Pizza. Everywhere!