Shadows stretch in the middle of the day. My fingers are snug in 2 pairs of gloves as I peer out from a goretex hood and a cowl I knitted on the flight to this northernmost town in the world; north of the Arctic circle at roughly 78 Degrees North.
My nose and cheeks were not accustomed to the freezing cold accompanying such a blue sky, as we wandered through the empty street on a Sunday afternoon to get our northern bearings set.
We soon realised that Sundays were quiet days…. as was before 10am every morning; where the only movement in the street was the occasional flurry of gravel being blown by the howling wind…. and us… wandering inquisitively through the streets.  
The mountains dusted with a recent snowfall stood guardian to this small township which has months of both continued daylight and continual darkness. I still can't get my head around it being dark for 4 months of the year. The locals say they have two winters…. the dark and the light winter. The dark winter, or polar night, when the sun doesn't rise at all for two months, is followed by a period of twilight in February and early March.
My mind started imagining spending a few weeks here in the total darkness where there is not even the light of the moon. It would be cold. It would be windy. What would I do outside? How would it feel??… 24 hours a day in complete darkness. How would I respond to weeks of darkness?? Would it be fun?? .. or would I rather be at home by the pool eating our summer watermelons??? haha.. I still haven't made up my mind on that one yet. 🙂
Life goes on on the cold here.. even though even the summer days start late for us…. and watching the construction workers do their job is astounding. Can you guess what is being done in the protection of the horizontal red and white umbrellas? ……WELDING! …..Yes… welding in the freezing gale being protected by a horizontally placed umbrella!!!!. Quite astounding really. 
Early day 2 we adventured on a full day trip to Pyramiden. In my next post I will devote to this incredible town which has been suggested to have been developed into a town to showcase Soviet superiority and excellence in living standards. 
Founded by Sweden in 1910 as a coal mining town and sold to the Soviet Union in 1927. Pyramiden mine was closed in 1998 and has since remained largely abandoned with most of its infrastructure and buildings still in place. In 2007 it began being a tourist attraction and it was like walking through a time warp. … more on that next post.
The boat trip was just wonderful. Recent snow highlighted the sculptural mountains and being on the sea is always comforting to me. … and was a teasing taste for 3 weeks aboard a tall ship starting in a few days time!
We had a BBQ on the boat and coasted slowly in front of the Nordensköld Glacier. The texture of the ice was vibrant and the lines and colours of the landscape were accentuated by the rarity of the blue sky day.
After Pyramiden we passed Skansbukta where at Svenskhuset, the Swedish hut; where in 1872, seventeen Norwegian seal hunters died; not from scurvy or starvation – or even polar bears….. but in 2016 it was concluded that it was likely their demise was self inflicted by cooking their food in the cans which were lead lined in those days… and it is presumed now that they actually died from lead poisoning.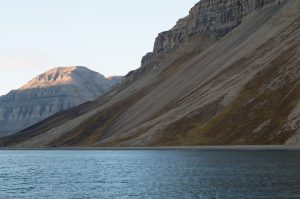 It was a really fabulous day on the water and Pyramiden was a really interesting place to visit. More on Pyramiden next time.