"Aummmmm….. Aummmmmmm….." I chanted in a Yoga class in India. It seemed a little surreal – Pranayama in India. Studied and taught yoga… now here I am… Yoga class in India!
Five days in Kolkata has now passed and tonight we meet with the group participating in Thunder Dragon Rally through to Bhutan. It seems like so long ago I was scooting under the car on my mechanics trolley, and I'm really ready now to get on the road in Penny. First though to the Sunderban National Park and then we reunite with Penny in Siliguri in a few days time.
Over the past few days I think we have explored the Top 11 things to do in Kolkata; and WAY more… and I have immersed myself in this place of contrasts. Because we have walked such extensive distances in the city – often at a faster pace than the concoction of traffic vehicles… and at times taken the frantic Taxi ride to places beyond where our legs can take us; I have been able to witness vast differences in demographic; activities and ways of living in this amazing city of Kolkata.
The MULLIK GHAT FLOWER MARKET was fascinating. The flowers come by train to arrive before the sun rises and parcels which require 3-4 strong lean men to lift are then stacked on to trucks, then sold and offloaded amongst the masses of vendors in this small location just at the northern end of the Howrah bridge. The parcels are then unwrapped and portions of the contents once again sold and carried to plastic sheets on the ground on heads in wide baskets; or in carts; or bags; or clumps of brightly coloured strings hanging from shoulders.
The brightness of the flowers is such a contrast to what seems to me as such a difficult life. Many of the people who are selling the flowers lie to sleep at night on a shelf behind where they display their flowers or leaves to be sold; their worldly possessions able to be tied into a cloth; and mementoes and a small shrine with ornaments adorn a wall along the corrugated iron which forms the back of their home. No pillow. No clean white sheets. No small bottles of shampoo or body lotion or sanitary bags. No water. No toilet. Communal washing either in the Ganga or at large taps in various locations around the streets; where chests and backs and legs are exposed and I'm certain a loss of dignity is masked by bubbles.
Strings of marigolds; tuberoses; bunches of lolly-coloured gerberas; red roses, bachelor buttons; carnations; herbs; grasses; mint; coriander; leaves, ferns; lotus flowers delicately placed in baskets lined with their leaves which were once attached in the water surrounding them.
The fragrance of the flowers was beautiful ..and momentarily if I closed my eyes and pretended I couldn't hear anything… it smelled like a beautiful garden – but then in my next breath that illusion was shattered by the surrounding cacophony of noise which I could not in my imagination make disappear, and the horrible stench of rotting plants and rubbish nearby was impregnated into my boots.
It was however a remarkable place. Productive. Efficient. No time for pity. Just a commitment to getting on with living and surviving.
Surviving has been the primary focus for so many millions here in Kolkata. Mother Teresa was a Saint; a woman whose compassion and love inspired me as a child; and although I didn't ever meet the woman I once had hoped to see in person – I visited where she spent so much of her time working and making such a positive impact on the world.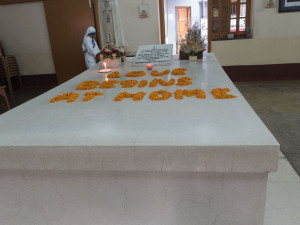 For some reason visiting MOTHER TERESA HOUSE was quite an emotional experience for me. I saw in a small room some of Mother Teresa's quotes typed on small innocuous signs around the room. "Let us always meet each other with smile, for the smile is the beginning of love." and "The most terrible poverty is loneliness and the feeling of being unloved." It was this, which was at the core of Mother Teresa's inner purpose… to show about Love.
I was quietly wandering and reading the small display and one of the Sisters came over to me after I had seen her rummaging around for some time. She came over to me and put in my hand a purple string of Rosary beads. She said she wanted to give them to me… and they had been blessed my Mother Teresa. I was overwhelmed. A small strand of beautiful plastic beads now breathing life and love after resting in a small container for at least 17 years.
Another retreat space of time and reprieve was at TAGORE HOUSE… where the history of the Tagore family was so beautifully displayed and narrated through artefacts; paintings; books; displays; and the sense of clean and calm and of 'something else'… perhaps it was 'respectfulness'. Our shoes were removed as the melody of a female voice wafted across the grounds and throughout the whole area annexed to the University the lives of a culturally rich family were exposed. For me personally was a highlight of my visit to Kolkata.. as Rabindranath Tagore is a favourite poet of mine.
Quirkiness and sense of bizarre revealed itself so often in this interesting city. As we entered Tagore House on the right was a large 'Duck rubbish bin'. I laughed.
As with many of the places of cultural significance, no photographs are allowed; so in a way I was able to just experience everything and take away just my memories.
Only a few days to go before Penny; the oldest car in the rally by about 40 years is on her way meandering through the northern region of West Bengal and then into Bhutan and beyond.
Incredible memories of here in Kolkata… more to share tomorrow on the Indian Museum; Victoria Memorial Hall; Fish market; South Park Street Cemetery; Belur Math Temple … and my experience in this fascinating city – Kolkata.